This article is about the Goblin Slayer series. You may be looking for the character.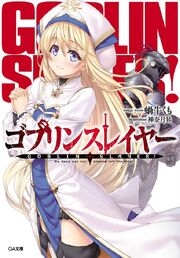 Goblin Slayer (ゴブリンスレイヤー, Goburin Sureiyā) is a Japanese light novel series written by Kumo Kagyu (蜗牛くも) and illustrated by Noboru Kannatuki (神奈月昇). A manga adaptation by Kōsuke Kurose is serialized in the Monthly Big Gangan magazine, and a prequel manga by Kento Eida runs in Young Gangan. The novels and manga have been licensed by North American publisher Yen Press since December 20, 2016. [1]
Plot
A young priestess has formed her first adventuring party, but almost immediately they find themselves in distress. It's the Goblin Slayer who comes to their rescue – a man who's dedicated his life to the extermination of all goblins, by any means necessary. And when rumors of his feats begin to circulate, there's no telling who might come calling next.
Media
Light Novel
The light novels are written by Kumo Kagyu and illustrated by Noboru Kannatsuki. The series was originally published online. SB Creative published the first volume under their GA Bunko imprint on February 15, 2016.
Manga
Main Article: Goblin Slayer Manga
Drawn and written based on the Goblin Slayer series' Light Novel plot. A manga adaptation with art by Kōsuke Kurose. Currently, there are three known manga adaptations:
Anime
Main Article: Goblin Slayer (Anime)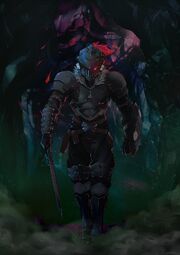 An anime adaptation by White Fox was announced at the "GA Bunko 2018 Happyō Stage" presentation at the Wonder Festival event, and premiered on October 6, 2018.[2]
Trivia
The characters in this story do not carry proper names but are instead named by their professions.
References
↑ Goblin Slayer Official Japanese Site - http://goblinslayer.jp/